Vancouver Auto Parts Services
Vancouver Auto Parts has been providing automotive services for more than 30 years to the Greater Vancouver area. The Surrey, BC location of VAP is also known as VAP Auto Brakes & Clutch parts and service.
One of the things that makes Vancouver Auto Parts stand out with customers aside from great service is just how long they have been providing automotive care from the same location. Not having to search for a dependable repair shop for your mechanical needs helps to get your car back up and running that much sooner, taking some of the pressure off of what can be, a very stressful situation.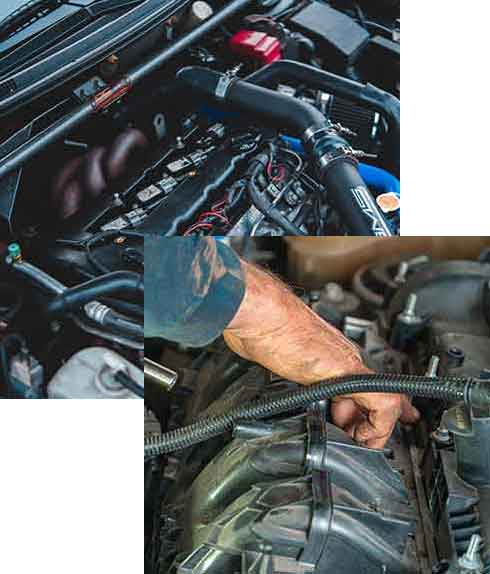 Your vehicle's braking system is a vital component in your safety, along with the safety of the people who share the road with you. Brakes are also one of those maintenance items that you can not afford to put off for another day. When your brakes need service, you need to take your vehicle to a shop that you can trust to get you on the road and stopping on a dime.
There are a few telltale signs that your brakes require servicing.
From a basic service to full replacement, our mechanics have years of experience working with the braking system of a wide variety of makes and models.
Transmission problems are best when caught early so you can prevent extensive and expensive repairs to your vehicle. If your car has any of the following symptoms, call us to make an appointment to have your transmission serviced.
Whether your vehicle needs a simple flush and replacement of the transmission fluid or some more extensive repairs, our mechanics are up to the task.
Modern vehicles are complex networks of wires, relays, modules, lights, switches, and computers, and when these systems fail, your vehicle can start acting erratically or shut down entirely.
If your car is experiencing the following signs and symptoms, bring it to us to diagnose and repair your vehicles' electronics.
VAP mechanics have the training and skills to track down the source of your vehicle's electrical issues and resolve them, getting you back on the road.
The check engine light is the bane of all drivers. That light on your dash is accompanied by muttering under your breath, "How much is this going to cost?". Until we connect your car to a code reader, there is no way to tell what the problem may be.
We have all been tempted to ignore the light.
Do not ignore that check engine light because your onboard computer will possibly alert you to a problem with a quick and inexpensive fix before that problem turns into a much larger and more expensive one.
Our automotive mechanics can conduct diagnostic tests that your vehicle's engine needs to figure out what problems may be lurking in the shadows.
Your car's exhaust system is a little thought of but a very important part of the overall health of your vehicle. From the exhaust manifold to the tailpipe, each component has a job to do, and when they start to fail, the consequences can be more than a loud ride.
If you notice any of these problems, have us take a look at your car's exhaust system.
Vehicle exhaust is toxic, and the last thing that anyone needs is an exhaust leak finding its way into the cabin of your car.
Needless to say, fuel is what makes your vehicle go, and when there are problems with the fuel system, it is not only costing you money in repairs but also wasted fuel. With gas prices the way they are, maintaining your car's fuel system is critical to the vehicles' health and the health of your wallet.
The following are a few indications that your car needs to come into our shop for fuel system maintenance.
From your fuel tank to the engine, we can diagnose and fix any fuel system issues that your vehicle may have while also giving your fuel system cleaning and tune-up to save you money at the gas pump.
The best way to keep your car in tip-top shape is to bring your vehicle into our shop for regular maintenance. Our mechanics can work with you and let you know what maintenance to do and when you should be doing it.
A few examples of the routine maintenance that we offer are:
The cost of routine maintenance is minimal compared to the repairs resulting from a poorly maintained vehicle.
Engines get hot, and if they do not cool down effectively, many issues can arise. While the symptoms of a cooling system problem can often manifest in a vehicle with clouds of smoke or steam billowing from under the hood, they can also manifest in more subtle ways.
If you are noticing any of these, bring your car to us for a cooling system check.
Dealing with any issues with your cooling system, no matter how minor, is critical to maintaining the health of your engine.
Under your car, there are a series of shocks, struts, and springs that keep your ride smooth. When these components fail, they can cause significant damage and result in large repair bills.
If you are noticing any of these symptoms, bring your vehicle to us straight away.
Vancouver Auto Parts mechanics can quickly and efficiently resolve issues with your suspension and steering getting your vehicle back on track and your ride smooth as silk.
Transfer Case and Differentials
The transfer case and differentials are another often overlooked component of our vehicles. Being out of sight and out of mind hidden underneath, we seldom acknowledge their existence.
However, if you start to notice any of the following, you should be bringing your car to us.
Address any of these problems immediately to avoid large future repair bills. Our mechanics will take care of any differential or transfer case problems from fluid change to total replacement.